ADT Burglar Alarms
Stop intruders in their tracks with a high-decibel home burglar alarm.
How an ADT Burglar Alarm System Helps Protect Your Home
High-decibel alarm alerts intruders that they've been caught—and, fingers crossed, nips their plans in the bud.
24/7 burglar alarm monitoring means immediate follow-up from a real person when your alarm is triggered.
CellGuard® cellular signal makes your system immune to landline service outages and cut phone lines.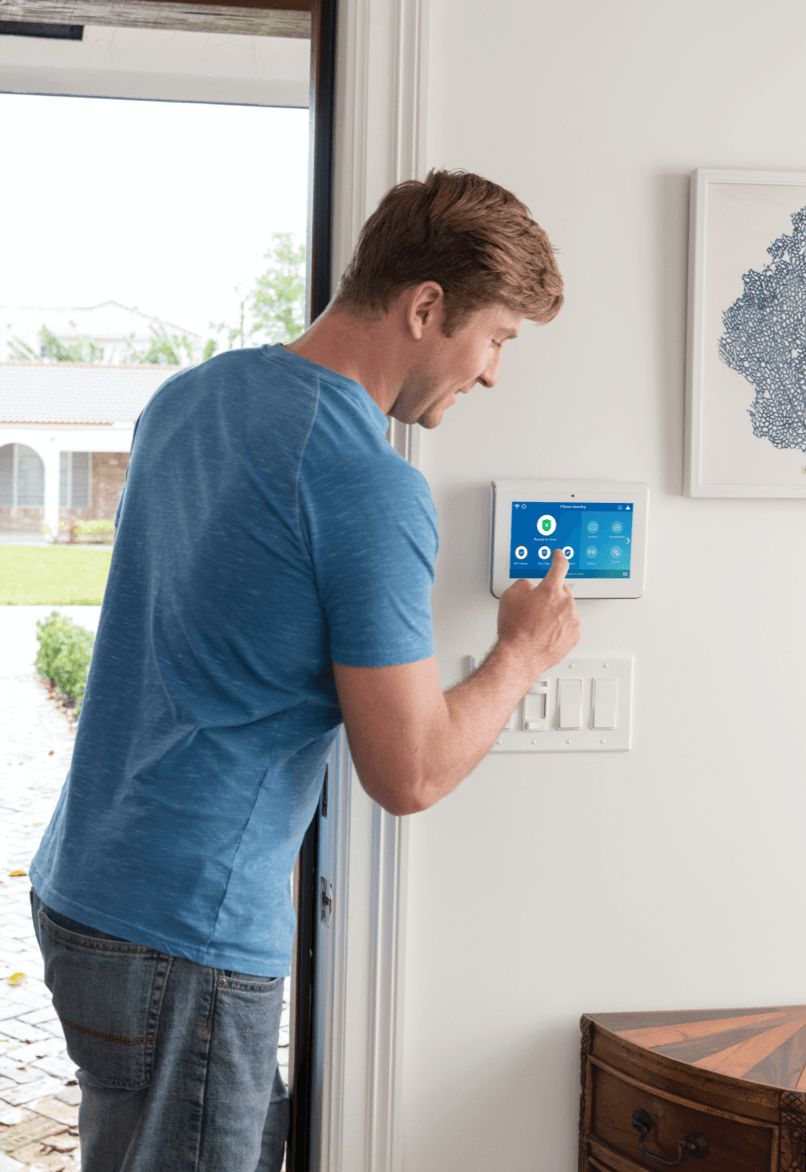 Integration with smart HD security cameras gives you clear visual insights into the activity around your home.
Automated home security routines make it easier to plan, execute, and adjust your home security plans.
The ADT Theft Protection Guarantee® offsets your insurance deductible up to $500 in case of a theft.
How to Buy an ADT Burglar Alarm System
1. Call to speak to an ADT Authorized agent.
2. Choose the products and pricing that solve your biggest concerns.
3. Schedule installation right there on the call.

0 million
In 2020, over 1.2 million households were victims of a reported household burglary.
How Your ADT-Monitored Burglar Alarm Works
3 cutting-edge technologies detect attempted break-ins
Electromagnetic Circuits
ADT-monitored door and window sensors create electromagnetic circuits on either side of a door or window opening. When the parts are separated, the circuit breaks and triggers the alarm.
Frequency-Sensitive Mics
ADT-monitored glass break sensors come with microphones tuned to the frequency of shattering glass. If a window breaks within a 25-foot range of your sensor, the burglar alarm goes wild.
Infrared Motion Detection
Every ADT-compatible security camera has built-in passive infrared (PIR) motion detection. Cameras send motion alerts to your Command Panel and phone instead of directly triggering the alarm.
It's hard to think straight in an emergency. Unless you're ADT.
When you still feel like a deer in headlights, ADT will already be on the line asking if you're okay and making the next step happen. Do your thinking now so ADT can be there for you later.
Get a Free Quote
on an ADT Burglar Alarm
What Happens When Your ADT Burglar Alarm Goes Off?
Some burglar alarm systems merely make a loud noise when tripped. But ADT-monitored burglar alarms sound the alarm and contact a 24-hour ADT monitoring center for help.
1. Your alarm system alerts a 24-hour ADT monitoring center.
2. An ADT monitoring representative contacts you to confirm the emergency.
3. Your monitoring rep contacts local first responders if needed.
Frequently Asked Questions
About home security burglar alarm systems
What does a burglar alarm do?
Burglar alarms emit a loud siren when one of your home security devices trips the alarm, alerting you of a potential intruder and deterring them from entering your home.
Are home burglar alarms effective?
In one groundbreaking study of seasoned burglars, 60% said they'd change targets if they saw or heard an alarm on the property.
Do burglar alarms call the police?
Unmonitored or self-monitored alarms don't call the police in an emergency—that's up to you.
Monitored burglar alarm systems, on the other hand, alert trained professionals who first confirm the emergency and then contact emergency responders for you.
How loud is a home burglar alarm?
That all depends on the system or devices you're using. ADT-monitored alarm systems measure at 85 decibels, which is loud enough to be heard virtually anywhere in most homes.
How long do burglar alarms go off for?
That depends on the alarm system. With an ADT-monitored alarm, you will usually be contacted by an ADT monitoring representative within 10 seconds to determine next steps, including whether the alarm needs to stay on.
Why is my ADT-monitored burglar alarm system beeping?
Usually, beeping indicates a recent power outage or low battery. You can clear the alert by entering your passcode and replacing the backup battery if needed. For further help, contact ADT customer support at 1-800-521-1734.