ADT Monitored Smart Lock | A Smarter and Safer Home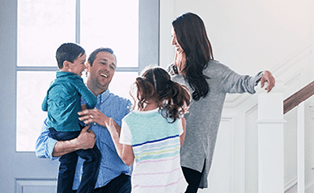 Keyless Entry
Forgot your keys? Enter anyway with the push of a few buttons.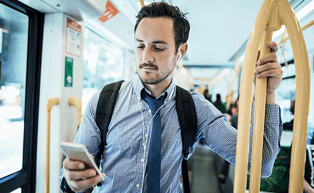 Mobile Alerts
Receive alerts by text or email when the status of your door lock changes.
Help secure your doors with smart locks.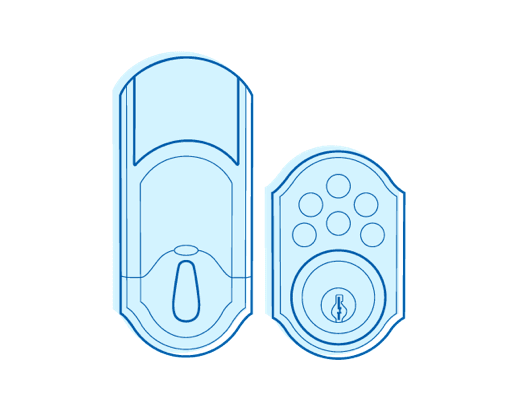 What Is a Smart Door Lock?
A smart door lock, sometimes referred to as a keyless door lock or keypad door lock, allows you to lock and unlock your door without a key. The smart locks available from SafeStreets, an ADT Authorized Provider, provide multiple locking and unlocking options. The keypad allows you to open the door with a digital combination. Smart locks can be combined with other elements for a full home automation system or used on their own.
Benefits of a Smart Door Lock
Have you ever gotten to work and immediately worried that you forgot to lock the front door? It's a common anxiety many have experienced—and one you can eliminate through the use of smart locks by checking to see if doors are secure from your phone. Being able to remotely lock and unlock your doors is the most obvious benefit, but it's not the only one. You can use your combination door lock with multiple combinations to track who's coming and going from your house, set up emergency automations, use it as an automatic door lock that secures after a certain amount of time, and combine your code door lock with doorbell cameras for greater security.
Smart Home Integration
Your Wi-Fi door lock can easily be added to a larger smart home system. The digital door lock options available with upgrade from SafeStreets, an ADT Authorized Provider, are compatible with Alexa and other popular smart home assistants. So when you're telling your smart home assistant to turn off the lights, why not tell it to lock the doors, too? Full smart home integration, including every lock and Wi-FI deadbolt, is not just more convenient—it's safer, too.
Programmable Locking
Use up to 30 custom user access codes to grant access and monitor comings and goings from your home.
Wireless
Uses a wireless connection to transmit alerts to your home automation/security system.
One-Touch Lock
Leave the keys at home—lock the door with the touch of a button.
Bump Guard
Uses patented technology to protect against lock bumping, a technique used to defeat conventional locks.
Smart Key
Offers the flexibility of rekeying your smart locks without removing the lock from the door.
Nighttime Illumination
Built-in back-lighting makes it easier to see your keypad at night.
Kwikset 910 Deadbolt Specifications
Finishes

Polished Brass, Satin Nickel, Venetian Bronze

Dimensions

5.5 x 3.5 x 10 inches

Batteries

4 AA batteries (not included)

Power Source

Battery-powered

Weight

2.9 lbs.

Custom Access Codes

30

Keypad Type

Push buttons with illuminated keypad for use in low light

Security Features

128-bit encryption
Frequently Asked Questions
How secure is the ADT monitored Smart Door Lock?
The ADT monitored smart door lock uses patented technology to prevent lock bumping and increase the security of the lock against conventional break-in techniques.
How do I rekey my ADT monitored Smart Door Lock?
Rekeying the Kwikset 910 deadbolt is easy as long as you have the SmartKey tool. First, open your door and make sure it remains open with a doorstop—you don't want to lock yourself out of your house. Second, set the deadbolt to the locked position. Third, insert your current key. Then, insert your SmartKey tool fully in the SmartKey hole. Remove the SmartKey tool and the current key, then insert the new key you wish to use. Rotate it 180 degrees clockwise. Pull the key to make sure it will not come out in this position. If it remains in place, you have successfully rekeyed your lock.
Where do I buy an ADT monitored Smart Door Lock?
Smart door locks are available now from SafeStreets, an ADT Authorized Provider. The Kwikset 910 deadbolt is available in multiple finishes to go with your home's exterior look.