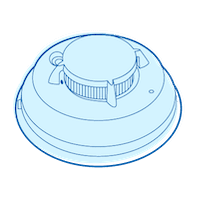 Why Accurate Smoke Alarm Placement is Crucial
Purchasing a smoke and fire alarm is a crucial first step in helping your family stay safe in an emergency—but it isn't the only step. To maximize your detector's ability to identify smoke, you need to install and place fire alarms correctly. You also need enough fire, smoke, and carbon monoxide detectors to catch the problem quickly: one or two per home just won't cut it. In fact, smoke detector placement codes recommend you place fire alarms not just on every floor or outside every sleeping area, but also inside every bedroom, hallway, and kitchen, and near any potential fire hazard (like a fireplace).
Feeling overwhelmed? No need! On this page, you'll find all the information you need to get help correctly placing your fire alarms.