Home and Family Safety Resources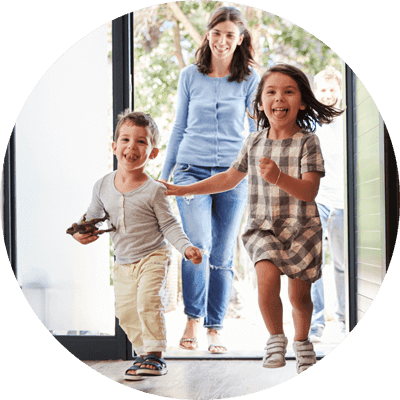 We know that having a security system to help protect your home and family is important, but we also recognize that protection goes beyond a security system. That's why we put together this list of the most credible sources for home and family safety information on the web.
The National Safety Council: Safety at Home
The National Safety Council (NSC) estimates that unintentional injuries cause 245 fatalities every day, with car accidents, poisonings, falls, choking, drowning, and fires listed as the top six causes. If you're looking for information on how to keep your family safe at home, the NSC offers online and classroom training for parents, families, and employees.
Crime Reports: Local Crime Maps
Crime Reports (CR) works with thousands of local law enforcement agencies to collect crime data that helps you stay informed about what's happening in your area. CR displays the reports on a map, helping you visualize the number of offenses near your home. You can select from over 15 incident layers to see specific pinpoints of where the incident occurred, and possibly get information about the offender. With CR, you can also anonymously send in tips and get alert messages if something newsworthy happens. While many of their services are free, some do require a membership.
The U.S. Fire Administration: Home Fire Prevention and Safety Tips
This is the best source for information about home fire prevention. Taking steps to reduce the risk of a house fire can help you avoid injuries to you or your loved ones. This site walks you through the possible causes of home fires and teaches you how to best prevent them. From tips on cooking safety to electrical safety, advice on smoke alarms and escape planning, this website has all the fire prevention information you need.
Federal Emergency Management Agency (FEMA): Natural Disaster Preparedness
This national public service site offers information about natural disasters, terrorism, and technological hazards, and more. Natural disaster risks vary depending on your location, but it's important to know what the risks are in your area. Most disasters–natural and otherwise–happen with little warning, and if you aren't prepared, the results can be tragic. This site outlines how to make a plan and build an emergency kit, so you are as prepared as possible if an unexpected disaster happens.
Pool Safely: Being Safe in and Around Swimming Pools
Every year, we hear about children drowning in swimming pools, but these tragic accidents can often be prevented. Whether you frequent a public swimming pool or own a pool yourself, take advantage of the great resources this website provides to help ensure that swimming pools are always a fun but safe place. Sponsored by the U.S. Consumer Product Safety Commission, this swimming pool safety resource will help protect your family from potential injuries at the swimming pool.
Safe Kids USA's goal is to help prevent childhood injury, disability, and death. It offers advice for children of all ages, from babies to teenagers. This website contains a wealth of information to help protect children in almost any situation. Tips are conveniently divided into age ranges, so you can quickly find the most applicable safety tips for your child.
StopBullying.gov: Cyber Bullying Prevention
With the recent increase in cyber bullying, it is important to take steps to prevent your child from being victimized. Stopbullying.gov offers tips on how to protect your child and gives detailed instructions on what steps to take if your child is bullied online.
United States Department of Justice: Sex Offender Registry
The National Sex Offender Public Website, established in 2005, is coordinated by the Department of Justice. It allows you to search for the whereabouts of sex offenders across America. The site is broken out by individual jurisdictions, allowing you to search by area or name. This site is a good source of information for all concerned citizens, including parents, employers, and people considering a move to a new area.
Center for Disease Control and Prevention (CDC): Vaccines and Immunizations
Ensuring you and your family are up to date on immunizations gives you peace of mind and helps maintain long-term health. The CDC offers immunization schedules plus recommendations and information about vaccines. Following its guidelines gives your family the best chance of avoiding serious diseases and other preventable health risks.
American Association of Poison Control Centers (AAPCC): Poison Control Centers
The AAPCC is the best source for information about poison prevention, answers to questions, and solutions to emergency situations. In addition to the site, the AAPCC's national hotline (1-800-222-1222) offers free, confidential, and expert medical advice.