Help Protect Your Texas Home With ADT Monitored Security
For about $1/day*
*with $99 installation charge and new monitoring agreement. Early termination fee applies. See below for full details.
SafeStreets in Texas gives you Superior Technology
Get the Most Innovative Home Security Equipment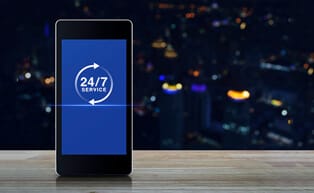 Cellguard®
24/7 Monitoring Without a Phone Line.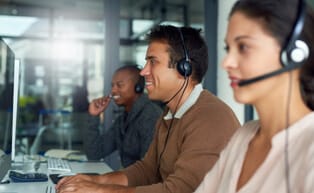 2-Way Voice
Talk Directly to ADT dispatchers through your keypad.
Trust Your Home Security to ADT Monitoring in Texas
ADT has over 140 years of experience and can help protect your Texas home. ADT monitored home security systems from SafeStreets combine powerful but easy-to-use technology with non-stop alarm monitoring to help keep your home safe.
There are 6 ADT customer monitoring centers helping ensure your home is always being safeguarded. You won't ever lose service because all 6 of these centers are interconnected. With ADT Monitoring, you always have help keeping your home safe.
Learn the Truth about Crime in Texas
Annual Crime Rates in Texas
With the over 228,5972 burglaries that the FBI unified crime report says happen in Texas every year, it makes sense that people want to take every precaution to help keep their home safe. One of the best ways to do this is to install a monitored security system in your Texas home.
Property Crime-951,246 occurences
Larceny Theft-85,577 occurences
Burglary-228,597 occurences
Motor Vehicle Theft-21,350 occurences
3x
LESS LIKELY


TO BE BROKEN INTO
Your Chances of Being a Victim of a Home Invasion in Texas
In the time it takes you to read this paragraph another home will have been broken into. According to the FBI, a burglary is perpetrated every 14.4 seconds. How does this apply to you? National trends indicate that the chances your home will be broken into this year are about 1 in 143. A security system could make your chances closer to 1 in 429. That equates to being 3 times less likely3 to be broken into.
Yearly average cost


of burglaries for Texas*:

$501,600
Burglaries Cost You More Than You May Know
Home alarm systems in Texas are affordable. If that's not enough to convince you, you should know that more than $501,600 is stolen from Texas homes each year. In what way does this affect you? If your home is robbed, this means you stand to lose $2,200.
Yearly average cost


of burglaries for Texas*:

$501,600
1. www.City-Data.com
2. FBI Uniform Crime Reports, 2011
3. Simon Hakim, Temple University, quoted by Elizabeth Chang, An Alarming Trend, The Washington Post, Nov 14, 1999
4. U.S. Department of Justice, 1999
*Numbers based on averages, may not be accurate.
Top 10 Safest College Campuses in Texas
College-Bound Texans: Consider These Campus Safety Stats
To help future college students make safety-driven decisions, the team here at Your Local Security runs an annual report* on the safest college campuses nationally—and sometimes we report state highlights too. Check out the top 10 standouts among safe Texas campuses below.
*We have updated our methodology since publishing 2018's Safest College Campuses by State, so you may see slightly different results there. Both can be helpful in deciding where to attend college.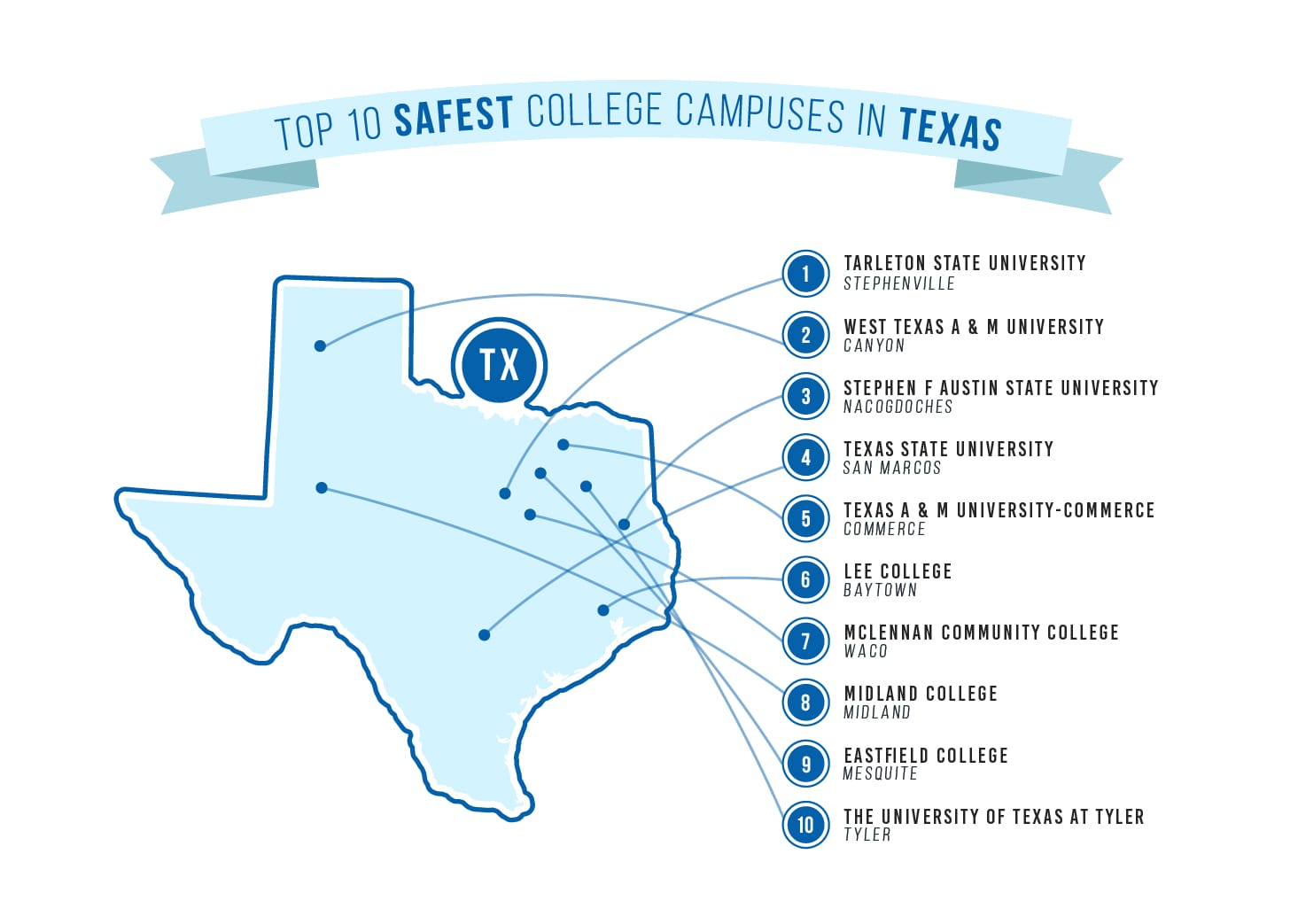 Methodology
To evaluate the safety of Texas college campuses, we tallied campus hate crime and violence against women (VAWA) rates per the U.S. Department of Education's Campus Safety and Security report. We also tallied violent and property crime rates in each college's hometown per the FBI Uniform Crime Report, to give relevant context about the city where students may live and work while attending school.
We limited our results to 41 Texas colleges to achieve more statistically reliable results. The requirements for inclusion were a total enrollment of at least 5,000 students, two- or four-year degrees offered, and available crime data.
Finally, we scored and ranked each college, weighing campus hate crimes and VAWA at 80%, citywide violent crime at 15%, and citywide property crime at 5% of the total score. City crime trends were deemphasized to avoid holding colleges responsible for crimes outside their jurisdiction.
Interesting Findings
Fourteen of the 41 Texas schools we analyzed reported zero incidences of hate crimes or violence against women (also known as VAWA).
Of the 29 Texas hometowns for these 41 schools, Houston has the highest violent crime rate and the third-highest property crime rate.
The FBI and U.S. Department of Education compile these numbers using self-reported data by schools and cities nationwide, so their reports may not show the whole picture. Before deciding where to study, you may want to research the crime trends and safety resources specific to the schools and college towns you're interested in.