Help Protect Your California Home With ADT Monitored Security
For about $1/day*
*with $99 installation charge and new monitoring agreement. Early termination fee applies. See below for full details.
SafeStreets in California gives you Superior Technology
Get the Most Innovative Home Security Equipment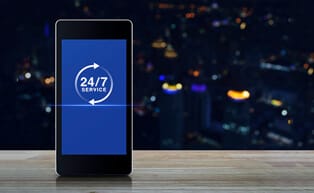 Cellguard®
24/7 Monitoring Without a Phone Line.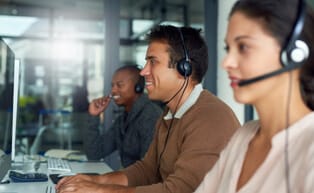 2-Way Voice
Talk Directly to ADT dispatchers through your keypad.
Trust Your Home Security to ADT Monitoring in California
When you have ADT monitoring, you know you have the best help to protect your California home. WIth ADT you benefit from over 140 years of experience in the security industry. And there are over 6 million people who trust ADT to help keep them safe.
These loyal customers know they have constant help to stay safe thanks to ADT's 6 interconnected customer monitoring centers. Because of the link these centers have with one another, you don't have to be concerned about your home losing monitoring protection. ADT will always help protect your home.
Learn the Truth about Crime in California
Annual Crime Rates in California
You want to keep your California home safe. And when you know that the FBI unified crime report shows there are over 228,8572 burglaries that happen here every year, home safety is even more important. One of the best ways to do this is to get a professionally monitored security system installed in your California home.
Property Crime-981,939 occurences
Larceny Theft-99,533 occurences
Burglary-228,857 occurences
Motor Vehicle Theft-60,338 occurences
3x
LESS LIKELY


TO BE BROKEN INTO
Your Chances of Being a Victim of a Home Invasion in California
According to the FBI, a burglary happens every 14.4 seconds and 74.5% of all burglaries are residential. You are probably wondering, with that many burglaries every year, what are the chances someone will break into your home. Based on national trends, the chances your home will be broken into this year are approximately 1 in 143. Installing a monitored security system in California could make your chances closer to 1 in 429. That's because security systems have been shown to make break-ins 3 times less likely3.
Yearly average cost


of burglaries for California*:

$501,600
Burglaries Cost You More Than You May Know
Don't let the price tag deter you from helping protect your home with a security system. What you lose in a burglary will typically be more than what you'll spend on yearly monitoring. Burglaries cost homeowners money. In fact, the average amount stolen from homes in California each year is over $501,600. This means you stand to lose $2,200 if your home is robbed.
Yearly average cost


of burglaries for California*:

$501,600
1. www.City-Data.com
2. FBI Uniform Crime Reports, 2011
3. Simon Hakim, Temple University, quoted by Elizabeth Chang, An Alarming Trend, The Washington Post, Nov 14, 1999
4. U.S. Department of Justice, 1999
*Numbers based on averages, may not be accurate.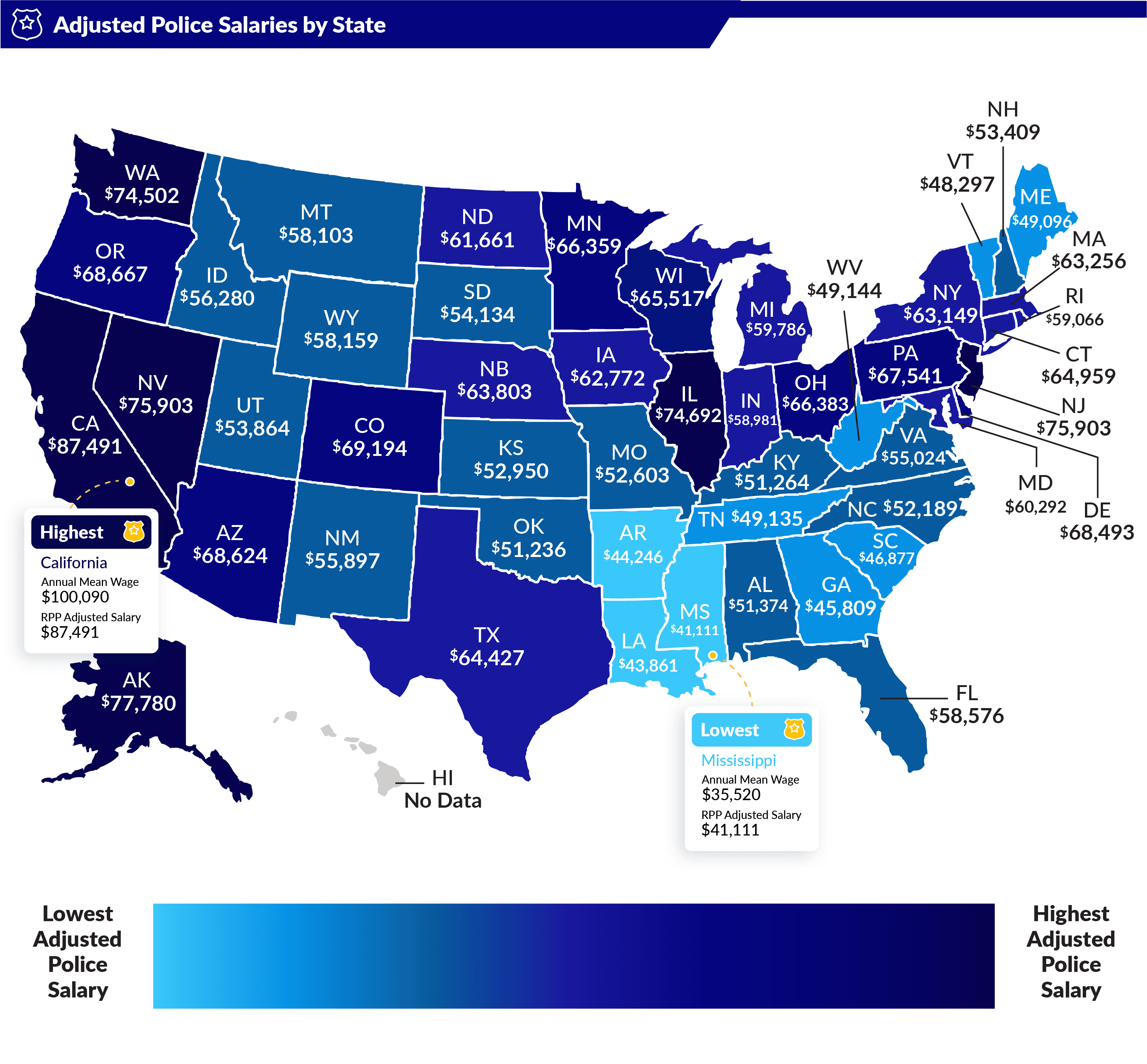 California police officers are the highest paid in the nation
When we compiled the data, we found that police officer salaries range from about $35,000 per year to $100,000 per year, with a national average of $64,490.
California ranks first in both actual salary ($100,090) and adjusted salary ($87,491).
Methodology
To gather the raw data for this analysis, we pulled salaries from the May 2017 Occupational Employment and Wages report, released by the Bureau of Labor Statistics for Police and Sheriff's Patrol Officers. We then obtained Regional Price Parities (RPP), which measure the difference in price level between states and metro areas, from the Bureau of Economic Analysis. The adjusted salary numbers were calculated by dividing the annual mean salary by the price parity. The adjusted salary represents purchasing power based on the cost of living in each state.
See the original report
College in California: Which Campuses Are Safest?
Before your high school junior or senior leaves the nest for good—or before you go back to school yourself—you might benefit from researching the safety of your favorite schools. You could even reverse-engineer a decision based on the safest college campuses in California (listed below) or other nationwide winners in our annual report.*
*We have updated our methodology since publishing 2018's Safest College Campuses by State, so you may see slightly different results for California there. Both can be helpful in deciding where to attend college.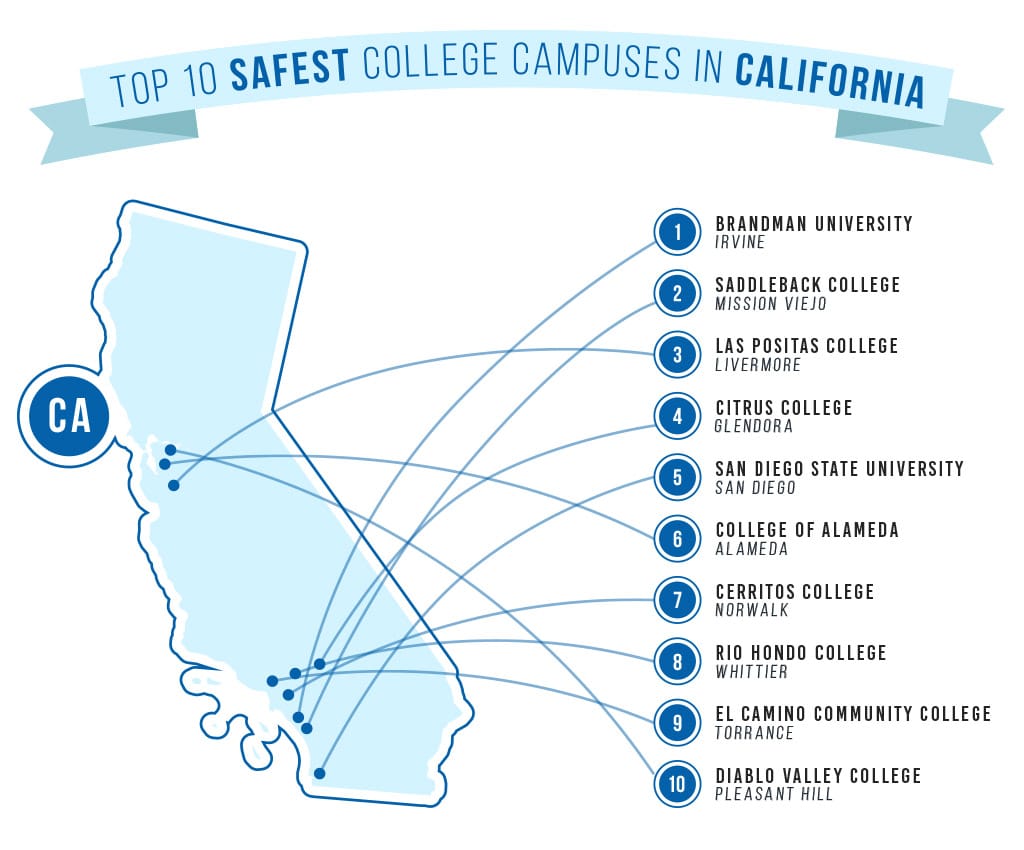 Interesting Findings
Thirteen of the 58 California colleges and universities we ranked had zero reports of hate crime or violence against women (also known as VAWA).
Brandman University focuses on accessible education and offers mostly online coursework. Among other factors, lower foot traffic could contribute to the school's low counts of campus crime.
While Shasta College has the highest rate of VAWA and hate crimes among the 58 colleges we ranked, the school has many programs in place to help students stay safe.
Foothill College ranks about average for safety (25th in the list of 58), but its hometown of Los Altos Hills has the lowest violent and property crime rates of all the college towns in the rankings
Methodology
First we gathered numbers on hate crimes per enrolled students and VAWA per enrolled students per the U.S. Department of Education's Campus Safety and Security reports. Then we gathered stats on the violent crime and property crime rates in each college's hometown per the FBI Uniform Crime Report, since many students live and work off campus.
We then scored and ranked each campus on a weighted scale, with hate crimes and VAWA making up 80% of the campus safety score and citywide crimes supplementing the score at 20% (violent crime 15%, property crime 5%). Campus crimes were weighted more heavily to reflect the safety of the institutions represented on the list.
To be included in our rankings, California colleges had to have two- or four-year degrees available, a total enrollment of at least 5,000 students, and sufficient campus and city crime data from the Department of Education and the FBI. A total of 58 California colleges met our criteria.